Adoption Forms
Thank you for considering adopting from Rufus Refuge!  In this section you will find our Adoption Application and Adoption Contract forms.
To proceed with adopting a Rufus Refuge animal, you will need to download, print and complete an Adoption Application and send it back to Rufus Refuge.  A representative will review the Application and either approve or deny your request for adoption.  When approved, the next step is to fill out an Adoption Contract which outlines all of our terms and conditions.  All forms can be sent to us via email at rufusrefuge@gmail.com.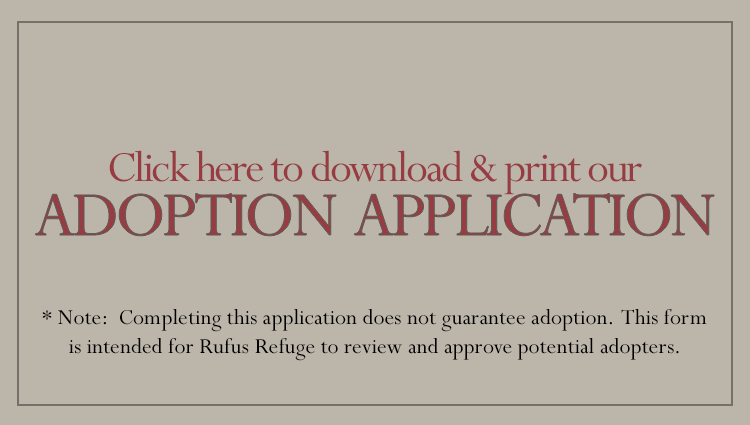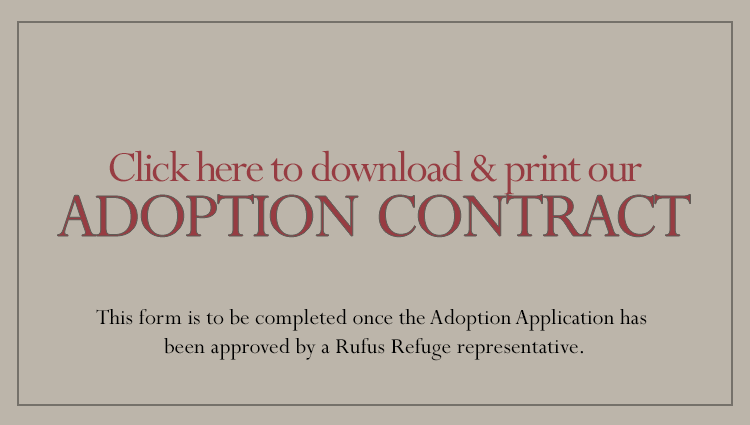 Foster Forms
Being a foster-based rescue, we rely heavily on individuals and families willing to open their homes up to the unwanted animals of the area.  More fosters means we have more opportunities to help those in need!  If you are interested in fostering a dog or cat of Rufus Refuge, please fill out the Foster Agreement form and return it to rufusrefuge@gmail.com.
Calendar Fundraiser
Rufus Refuge's Calendar Fundraiser is one of the biggest fundraisers for our group!  We feature precious rescues on our calendar each month with the opportunity for sponsorship of that dog or cat.  Local businesses and individuals have the opportunity to purchase sponsorships costing $1,000, $500 and $100.  Calendars are available for purchase for $30 each or $50 for 2 once printed.
To participate in our calendar fundraiser, please print out the form and return it to rufusrefuge@gmail.com.